Quality, reliability and a long service life
Innovative strength needs experience
There are few areas developing as consistently and quickly as the vehicle market. For us, as suppliers, that does not just mean keeping pace, but rather, remaining a step ahead: That requires the most modern software, future-oriented technology and, most importantly, innovative researchers who develop and produce, hand in hand. In Suderburg, all of these things are united, in order to design the highest-quality, customer-specific solutions. The most modern measurement instruments, which provide optimally-oriented testing procedures for our products, and an in-house material sciences laboratory make an important contribution to this. Our team of highly-specialised, experienced engineers works on the basis of the most recent findings about wear, corrosion and production technology. We have equally-high standards for our selected suppliers, from whom we obtain our raw materials.
Trust is good, control is better
Parallel to development, which exclusively takes place in close coordination with the customer, extensive tests take place on computer-controlled test benches. It is only a shock absorber that has withstood the prescribed stress cycle that goes into series production and will win customers over with GEREP's famous long operating life. That is because sustainability and low maintenance costs also ensure the economic efficiency over the long term, which is promised by the attractive purchase price. And so that things stay that way, we continuously and consistently promote the process of improvement in the dialogue with customers, suppliers and employees.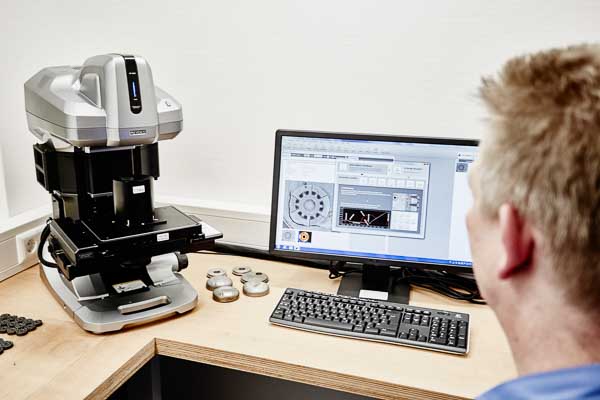 More than 7000 different types of shock absorbers produced speak for themselves
It is one thing to develop first-class products for the world market; perfect implementation is another: It is based on the competent advising of our customers, sustainable supervision and individual, goal-oriented production. With us, quality already begins with the raw material, which has been obtained from reliable suppliers and undergoes a tough incoming goods inspection: All materials used are examined in our own laboratory. Long-term tests and tough, precise material analyses are pre-requisites for further processing. In doing so, we act strictly in accordance with the valid standards.
Our shock absorbers are produced on the newest CNC machines and go through the hands of highly-qualified specialists for fine tuning. The fact that all of these fully-documented processes are centred in our plant in Suderburg guarantee a special production depth, flexible production control and short paths – the secret of our reliability, our delivery reliability and our competitive prices.
Our certificates prove it
All processes in our development, the manufacturing and the sales of hydraulic shock and vibration absorbers as well as gas springs is certified in accordance with DIN EN ISO 9001:2015. In doing so, for us, the fully-implemented, continuous process of improvement plays an especially important role and from it, we generate important evolutions or innovations for our future products.
For the production and sales of shock and vibration absorbers, we have been continuously evaluated with the best-possible result of Q1 Lieferant [Q1 Supplier] by Deutsche Bahn AG, the German railway.
We have been certified in accordance with DIN EN 15085-2 in the area of railway vehicles and vehicle parts, in order to carry out welding work within the scope of the CL1 certification level. This certification was issued by DVS ZERT.